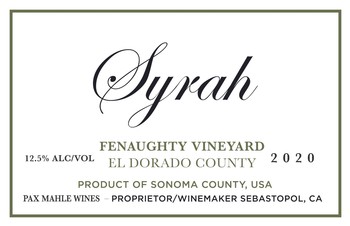 Syrah, Pax Wines 'Fenaughty Vineyard'
Pax and Pam Mahle moved to California in 1997 to pursue careers in wine, and after a few years of tasting and sourcing wine from all over the state for Dean & Deluca, Pax realized he needed to be on the frontlines of winemaking rather than behind the scenes, and made the decision to start his own brand in 2000. The Mahles made the bold choice of favoring the "untapped potential" of the Syrah grape at that time. Initially known for his rich and powerful expressions of Syrah that put him on the map, Pax's style took a major turn to fresher, lower alcohol profiles as he began working with new vineyard sources in cooler, coastal areas of Sonoma. His wines today are balanced and elegant, with a nod to the Old World.
Pax's all-star lineup includes vineyards such as Alder Springs, Castelli-Knight Ranch and Griffin's Lair for his Syrahs, and recently the brand has evolved to include new and exciting varieties such as Chenin Blanc, Gamay, Mission and Carignan. The Trousseau Gris that we know and love from his former brand Wind Gap is also being bottled under the Pax label as well as some of the other vineyard sources from that project. He is no longer making Chardonnay or Pinot Noir.
Pax believes that "great wines can only be made from great vineyards", which guides their highly selective decision-making process in choosing sites that are farmed sustainably by dedicated growers that will produce healthy grapes with balanced acids and sugars. All wines are crushed by foot and hand, and fermented using only natural yeasts. Their goal is to produce wines with as little intervention as possible.
Fenaughty Vineyard is located in El Dorado County in the Sierra Foothills. The slopes of this planting reach 2900 ft and fall towards the north. Intensely aromatic from the elevation, the exposition and from the bright-red Volcanic, Aiken Clay-Loam Soils, this 100% Syrah was fermented using 100% Whole-Clusters and was crushed entirely by foot. Vibrant and high toned, we aged this wine for 6 months in very old neutral French Oak 500L Puncheons to preserve the vibrancy and verve of this high altitude Alpine inspired wine.
Herbaceous notes highlight the silky ripe strawberry aromas and the deeper black cherry notes. Taunt black cherry skins, black pepper and cherry pits keep things in focus. Vibrant and tight this will reward your patience if you can stash some in your "cellar." In its youth it will be a thrilling alpine styled Syrah with lip smacking freshness and vibrancy. This wine will form sediment in the bottle as it ages and should be decanted and served at 55 degrees.
Product Reviews