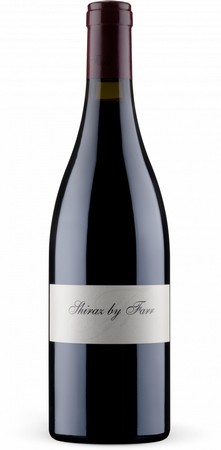 Shiraz, By Farr
A powerful nose, with the depth and complexity of cool-climate Shiraz. This wine is spiced with pepper and mineral elements, leaning towards earthy. The co-fermented viognier adds a little richness to both the bouquet and palate, which has a very pleasant sweetness to start, followed by intense fruit and earthy long tannins to complete the delicate structure and overall elegance of the wine.

The Farr estate is located in the Moorabool Valley between Geelong and Ballarat, 100km southwest of Melbourne. Grape growing in this region dates back more than 200 years, with Swiss settlers planting Victoria's first vineyards here in the early 1800s. The rich volcanic soil and continental climate at their estate produces premium fruit with a flavor, bouquet and color that is unique to their surrounding area.
Gary and Robyn Farr purchased the original property in 1994 and the second section in 1998. The final piece of the puzzle, which links the two blocks of land, was purchased by Nick and Cassie Farr in 2011, making a total of 130 acres—of which 36 acres are under vine and the remainder is maintained as grazing and cropping for cattle and horses.
Nick and Gary Farr stand side by side but aren't afraid to go head-to-head when their opinions differ. Each generation has developed a distinctive winemaking style based on his individual experience and taste, and their respective lines—By Farr by Gary, and Farr Rising by Nick—have received critical acclaim both in Australia and overseas.
Shiraz fruit comes from the original By Farr vineyard, planted in 1994. It lies on a north-facing slope, and the red volcanic soil has a base of limestone with deep-set sandstone.
Product Reviews