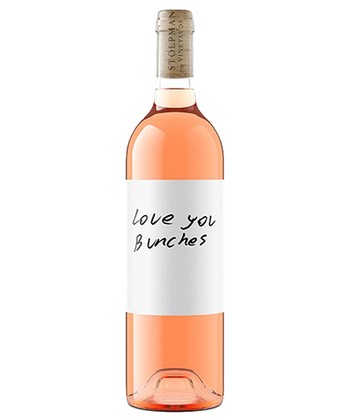 Wine Specs
Varietal
Grenache/Mourvedre
Appellation
Santa Barbara
Rose of Grenache, Stolpman Vineyards 'Love You Bunches'
The 2022 vintage has white blossom, acacia, and rose petal on the nose. Citrus spray and lemon-lime lead a burst of high-toned red aromatics. In the mouth, a hint of Asian pear showcases the perfect continuum of ripeness over the alluring zing of mango and star fruit. Strawberry shortcake and peach on the front palate with a velvety, airy texture reminiscent of tasting angel food cake for the first time as a child. Balancing acid brings a linear, crisp closure already integrated with the soft floral and fruit notes.
While the main Love You Bunches wine continues to be a 100% carbonic fermentation of Sangiovese, in 2019 we began making Love You Bunches rosé. For the rosé version of Love You Bunches, the fruit is pressed much more quickly for a beautiful pink-hued rosé. Grapes rest whole for 12-24 hours as carbonic fermentation begins, absorbing just a touch of pigment and texture.
The pun 'Love You Bunches' refers to the extra loving treatment of grape bunches during harvest when the clusters are destined for carbonic fermentation. Clusters must be kept intact, un-crushed, for fermentation to begin within each grape. Of course, the simple, whimsical label is the perfect fit for these fun, happy wines. The lettering shows off the singularly unique penmanship of vineyard manager and El Padrino, The Grape Whisperer, and their favorite human on earth, Ruben Solorzano.
2022 had cold windy conditions in the spring that resulted in a lower yielding, flavor-packed vintage. Then, an early September heatwave over Labor Day weekend proved pivotal for the vintage. Most Grenache destined for rosé ripened prior to the heat, while they waited to harvest a small remainder [15%] for a broader fruit profile the week following. The later ripening Mourvèdre came in a full week after the heat on September 10, and the Mourvèdre still wound up with lower sugar than any of the Grenache lots. While the low yields combined with the heatwave will create super intense red wines, the 2022 Love You Bunches rosé delivers a breezy, effortless, down-right delicious pink wine!
Over 20 years ago, Founding Partner, Tom Stolpman, discovered what is believed to be one of the greatest viticultural sites on earth. Hidden in the hills of California's Central Coast, on a rare Limestone outcropping and unobstructed from the Pacific Ocean wind, this unique land is naturally suited to grow Syrah and Roussanne grapes. They are committed to preserving this natural environment for their vines through conscious farming, dry farming, and sustainable employment. In the winery, they prefer native fermentation & minimal manipulation. Dedicated to sensible farming and winemaking, their belief is that they can create vibrant, site-specific wines, with a focus unique to Ballard Canyon AVA, California.
Product Reviews