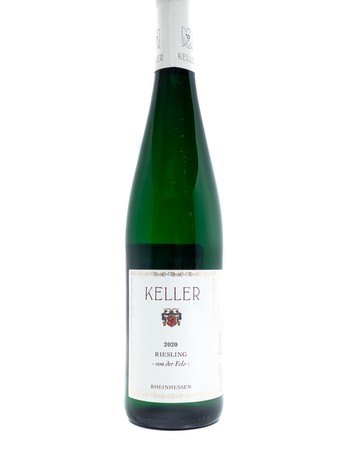 Riesling, Keller 'Limestone'
"If you want to produce fine wine, you have to know what fine wine is all about. So the first thing you have to do is travel and drink the world's finest wines. The second, work on your vineyards meticuously." So says Klaus-Peter Keller, the proprietor of Weingut Keller, arguably the top estate in all of Germany. And we couldn't agree more.
Keller's wines are some of the most sought after, and difficult to get, wines on the market today. Jancis Robinson has described his Rieslings as the "Montrachets of Germany". Not only does he make world class dry, off-dry and sweet Rieslings, but he also makes beautiful wines from "lesser" grapes such as Sylvaner and Scheurebe. Keller also pays just as much attention and puts just as much love into his everyday wines as he does to his Grosses Gewächs (Grand Cru) bottlings.
The Keller Limestone Riesling is from vineyards in Westhofen, mainly Kirchspiel. On the nose the wine displays beautiful aromas of lime mixed with spice, smoke and rocks. On the palate, the Limestone is citrus driven with a razor sharp acidity that is balance wonderfully by a slight sweetness. Enjoy with assorted wursts, shellfish and fresh vegetables.
Product Reviews