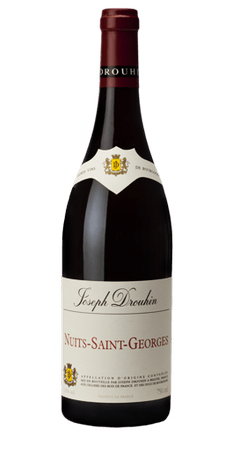 Wine Specs
Appellation
Nuits-Saint-Georges, Burgundy
Pinot Noir, Maison Joseph Drouhin, Nuits-Saint-Georges
The appellation of Nuits-Saint-Georges is elongated, with two different sections, north and south, separated by a little stream that crosses the town. The hillside is quite steep, but the vineyards have an excellent east exposure. There are outcroppings of hard chalk in many places. The northern part of Nuits, close to Vosne-Romanée, produces wines of great finesse. The southern part, with its rockier soil, gives powerful and long-lasting wines.
This wine is deep red in color, with aromas that are powerful and elegant, and notes of cherry and blackberry, as well as hints of cedar wood evolving towards gamey touches. On the palate there is beautiful balance between structure and softness. The long aftertaste is reminiscent of fruit syrups and mild spices. The 2020 vintage has been highlighted by a remarkable concentration. The nuances of the terroirs are already perceptible. 2020 is a great vintage to keep.
Ageing took place in oak barrels including 20 to 25% of new barrels from the French high forest for 14 to 16 months.
While the Estate now encompasses 93 hectares in some of the most prestigious 'climats' of Burgundy, one must go back to the year 1880 to feel the pulse of Maison Joseph Drouhin. By focusing on wine quality and respecting the diversity of Burgundy's vineyards, quickly combining the roles of négociant, producer, and above all, owner, the House quickly made a name for itself in the world. The generations of Drouhin succeeded each others, strengthening the House's reputation through the acquisition of numerous prestigious plots all over Burgundy. Guided by the revelation of these magical terroirs, unwavering ethics, and the distinctive Drouhin style characterized by finesse and elegance.
Maison Joseph Drouhin is rich with history and tradition. It is now directed by the four great-grandchildren of Joseph Drouhin. They grew up in the vineyards and acquired a deep understanding of wine alongside their father, Robert Drouhin. They all have their own role and they share the same passion for wine. The fifth generation is also making its mark, with Laurène, the eldest daughter of Véronique, joining the House in 2020.
At the operational helm of the House from 1957 to 2003, Robert Drouhin played an essential role in its modern development. He significantly expanded the estate, particularly in Grand Crus, and added the acquisitions in Chablis in 1968, as well as the establishment of the Oregon estate alongside his daughter Véronique in 1987.
Product Reviews