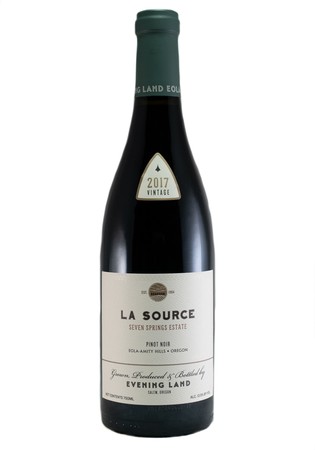 Wine Specs
Appellation
Eola-Amity, Willamette Valley
Pinot Noir, Evening Land Vineyards 'La Source'
La Source Pinot Noir is named #3 in Wine Spectator's annual top 100 wines of the year with a score of 98 points [the highest score ever given to an Oregon Pinot Noir!]
Evening Land's Seven Springs Vineyard is one of the oldest and most sought-after sites in the Willamette Valley. Al MacDonald planted the vines in 1984 next to the Douglas fir trees that surround the northern section of the property. The vineyard has always been dry-farmed and is positioned to capture the cold air from the Pacific that enters the valley through the Van Duzer Corridor, just to the north of the appellation. Rajat Parr and Sashi Moorman are two of the top names in the wine world today, and recently they obtained 100% control of the site. With their vigilant oversight and visionary stance on winemaking, the quality of these wines continues to elevate.
La Source is considered the best Pinot Noir from the historic vineyard. It is a selection of the best barrels in the cellar.
The history and natural beauty of Seven Springs were the initial draws to this majestic vineyard site. Here, fresh water flows with abundance, and clay-rich soils foster conditions for warm, dry summers. To capture the essence of this compelling place in a glass of wine is one of nature's many gifts.
Product Reviews