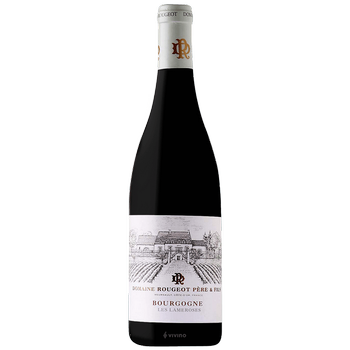 Pinot Noir, Domaine Rougeot
The "Les Lameroses" vineyard is located in the south of Meursault and covers 1.5 hectares on rich marl soils. The grapes are harvested by hand and sorted again at the winery on two sorting tables. The unstrained grapes go through a 15-18 day maceration with daily pumping over and racking once or twice. This is followed by the blending of free-run juice, pressed juice and a maximum of lees into Burgundian barriques , where the wine undergoes malolactic fermentation and matures for 18 months.
It welcomes you with open arms like a good old friend. Joyfully fruity and expansive, the flawless cherry radiates from the glass in upright and unadorned purism. Underpinned by subtle earthy spice, it gets the perfect framing and offers youthfully accessible Burgundy pleasure of the first order.
Super juicy, joyful and uncomplicated, Les Lamroses proves brilliantly what Burgundies far away from the Grand Crus once were before international speculators discovered the region for themselves. An open-hearted, fruity, pithy drink with a clear character of origin and a distinctive, partly rustic charm that harmonises perfectly with the earthy cuisine of the region. Juicy with silky tannins, it is accessible and expands quickly in the glass. A Burgundy that is a pleasure to drink in large gulps until the Grand Crus in the cellar have finally reached drinking maturity.
Product Reviews