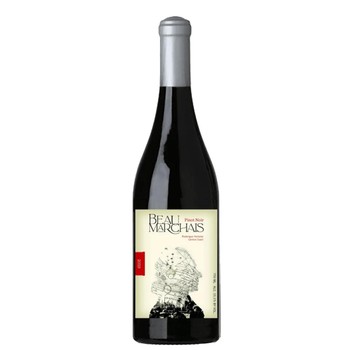 Wine Specs
Vineyard Designation
Clos Pepe Vineyard
Pinot Noir, Beau Marchais 'Clos Pepe'
Beau Marchais, a fascinating experiment conducted by California pinot noir wizard Adam Lee and the late famed French winemaker Philippe Cambie. Beau Marchais was always 'an evolving project,' but they never intended to come to an end this quickly, or this sadly. Sadly, 2021 will be the last vintage of Beau Marchais. On December 18th, 2021, Cambie passed away, leaving a stunning legacy in the bottles of the 2021 vintage.
The idea for Beau Marchais came to the two of them during one of Adam's pilgrimages to Philippe's home of Châteaneuf-de-Pape. The two close friends were talking about the similarities and differences in the grapes that each of them hung their respective hats on: pinot noir for Adam and grenache for Philippe. They enjoyed discussing how they might make each other's signature grape and how they might apply one's lessons to the other's winemaking, and finally Philippe said, 'why don't we do pinot together?' Adam didn't hesitate, and Beau Marchais was born.
The Clos Pepe Vineyard is one of the most famous Pinot Noir vineyards in Santa Barbara County. Adam began working with this fruit in its inaugural 2000 vintage, and thanks to the kindness of Walt Wines [who now leases the vineyard], Philippe and Adam were able to purchase this fruit for Beau Marchais. This wine combines that richness of the Sud with the structure of the Nord, while possessing a darker fruit profile typical of wines from the Sta. Rita Hills.
Product Reviews