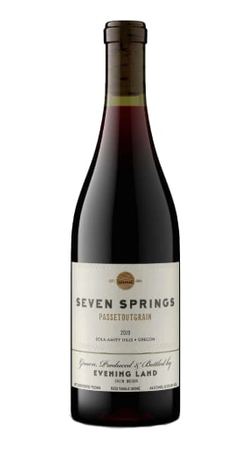 Wine Specs
Appellation
Willamette Valley
Passetoutgrain, Evening Land 'Seven Springs'
Passetoutgrain [pronounced Passe-too-grarn] is a blend of grapes. The wine must have at least 30% Pinot Noir and a minimum of 15% Gamay, typically of equal proportions of each fermented together. This process starts with a carbonic maceration and continues with a traditional fermentation. Other permitted varietals include Pinot Blanc, Pinot Gris and Chardonnay, but these must not exceed 15% of the blend. The wine is usually released young, and shows little aging potential.
The gradual and even ripening that occurred during the 2019 growing season resulted in beautifully layered, ethereal wines that lead with delicate red fruits. The nose offers bright and lifted wild red fruits notes with a touch of spice from the Gamay and a bit of rose petal and forest floor from the Pinot Noir. The Evening Land Passetoutgrain possesses both the playfulness and exuberance of Gamay on the front of the palate with the length and seriousness of Pinot Noir on the mid-palate and through the finish.
From highly-acclaimed winemakers, Rajat Parr [James Beard award winner for Outstanding Wine] and Sashi Moorman stand at the vanguard of the new world wine. Together they steward the historic Seven Springs Vineyard into its fourth decade. At Evening Land Vineyards, they strive to grow and vinify fine Pinot Noir, Chardonnay, and Gamay from their historic Seven Springs Estate Vineyard in Oregon's Eola-Amity Hills. Totalling 85 acres under vine; their east-facing vineyard, farmed biodynamically since 2007, was first planted in 1984, and sits atop rocky, volcanic soils.
Product Reviews