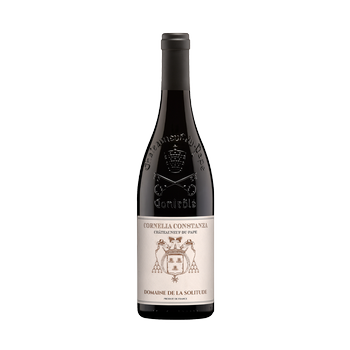 Wine Specs
Appellation
Châteaneuf du Pape
Grenache Noir, Dom. de la Solitude 'Cornelia Costanza'
Cornelia Constanza is produced in hommage to Cornelia Costanza Barberini (1716-1797) the last Princess of the Family Barberini. The grapes come from the oldest vineyard of the Domaine de la Solitude planted by Florent's great grandfather at the beginning of the last century over 100 years ago. It is located on the western slope of Crau on a terroir of safre. Planted mainly with centennial Grenache this plot gives exceptional maturities. This great Terroir is always vinified separately but only the great years, so only 5 vintages of the last 10 the Cornelia Constanza is bottled.
Elegant and refined wine, tannic while remaining velvety.. Expressive nose of gooseberry and Garrigues. Palate perfectly expressing the purity of the grape variety Grenache, on the background of cocoa, cardamom and Sichuan pepper.
After a double selection of the best grapes in the vineyard followed by the sorting table, the grapes are vinified in whole bunches in a concrete tank. The macerations are very long with a minimum of intervention to keep all the aromatic purity of the grapes. This wine is age for 40% in foudre and 35% in concrete vat for 20 months. The wine is bottled without fining or filtration. Only 250 cases produced.
Product Reviews