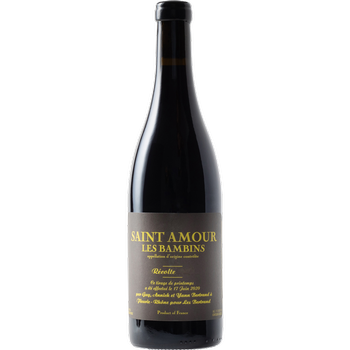 Wine Specs
Appellation
Beaujolais, Burgundy
Vineyard Designation
La Côte de Besset
Gamay, Yann Bertrand 'Saint Amour'
For Beaujolais, the 2022 vintage is shaping up to be excellent. The growing season began with a chilly relatively dry winter that saw some icy lows. April, especially, delivered harsh winter frosts. Fortunately, most of the nascent buds managed to skate through the frosts unscathed and May brought unusually warm, dry weather ensuring a successful flowering and fruit set. June then saw a collection of violent storms, however, considering the dry conditions of the previous month and the drought to come, this was not wholly unwelcome. However, the June storms did deliver hail, which inflicted some damage. A fiercely hot and dry July then marked the beginning of summer which saw virtually no rain from there on to the harvest. Although there were plenty of advantages to the hot, dry summer – as the arid conditions both kept the berries clean from rot and disease as well as pushed them to phenolic ripeness – drought, however, did become an issue. As vines struggled in the drought-like conditions, yields were inevitably reduced. For some producers, yields were cut by almost a third, which was to the previous year. The quality of the fruit, however, is looking to be excellent as the intense heat concentrated the fruit, making it likely that some very rich, flavorful wines will be made.
This plot is located in Saint-Amour Bellevue 'Côte de Besset' on the heights of Saint-Amour only on blue stones, mica schists and sandstone screen. This terroir gives the wine a full-bodied and spicy side. The tannic structure at the start gives way to a rounded complexity.
The vines at two of their parcels are 45 and 70 years and partially coplanted to Chardonnay. Carbonic maceration around 59 degrees for a period of 15 days without manipulation. No added sulfites or added yeast. 0.5G total SO2 at bottling. 100% in 225L barrels for 8 months. Old red barrel of minimum 6 wines. Racking then bottling at the property without filtration according to the cycle of the moon.
Product Reviews