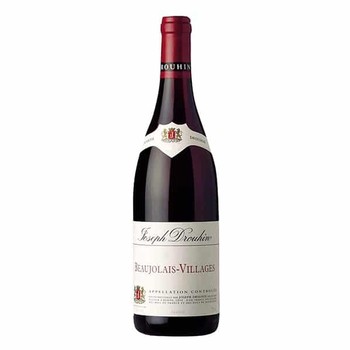 Wine Specs
Appellation
Beaujolais, Burgundy
Gamay, Maison Joseph Drouhin 'Beaujolais-Villages'
A truly convivial wine. Owing to the careful blending of various terroirs, the result is a wine of great charm. It has a lovely raspberry colour and a brilliant hue. The nose is both refined and intense, with notes of violet, peony and red fruit syrup. As you drink it, it feels fresh and silky. Both freshness and fruit remain for quite a long time on the palate.
Although Beaujolais is part of « Greater Burgundy », it differs from Burgundy in many respects. Out of the 35,000 hectares of gamay planted throughout the world, 22,000 hectares are in the Beaujolais area, spread over 38 villages.
Maison Joseph Drouhin has always had a special affinity for this area and, since their pioneering work in the early fifties, has assiduously promoted it around the world. Made from grapes harvested in villages celebrated for the quality of their terroir and micro-climate, this wine represents, vintage after vintage, the true spirit of the Beaujolais-Villages appellation.
While the Estate now encompasses 93 hectares in some of the most prestigious 'climats' of Burgundy, one must go back to the year 1880 to feel the pulse of Maison Joseph Drouhin. By focusing on wine quality and respecting the diversity of Burgundy's vineyards, quickly combining the roles of négociant, producer, and above all, owner, the House quickly made a name for itself in the world. The generations of Drouhin succeeded each others, strengthening the House's reputation through the acquisition of numerous prestigious plots all over Burgundy. Guided by the revelation of these magical terroirs, unwavering ethics, and the distinctive Drouhin style characterized by finesse and elegance.
Maison Joseph Drouhin is rich with history and tradition. It is now directed by the four great-grandchildren of Joseph Drouhin. They grew up in the vineyards and acquired a deep understanding of wine alongside their father, Robert Drouhin. They all have their own role and they share the same passion for wine. The fifth generation is also making its mark, with Laurène, the eldest daughter of Véronique, joining the House in 2020.
At the operational helm of the House from 1957 to 2003, Robert Drouhin played an essential role in its modern development. He significantly expanded the estate, particularly in Grand Crus, and added the acquisitions in Chablis in 1968, as well as the establishment of the Oregon estate alongside his daughter Véronique in 1987.
Product Reviews