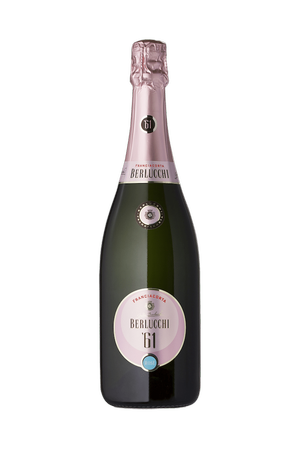 Wine Specs
Varietal
Chardonnay/Pinot Nero
Brut Rosé '61, Berlucchi
60% Pinot Nero/40% Chardonnay
The rosé for those who want something more from a rosé. WIne Spectator's Top 100 List in 2021. 92 points Wine Enthusiast.
The grapes that make up this award winner are sourced from the best vineyards in the 19 municipal areas of Franciacorto.
Intense pink in color, each vintage varies slightly due to the different ripeness levels of phenolics [chemical compounds found in the skin which affect the taste, feel and color], in the Pinot Nero. Elegant hints of wild berries and ripe fruit on the bouquet, nicely blended with subtle nuances of yeast and crusty bread. Heady, warm quality from the brief Pinot Nero maceration on the skins during vinification. Refined and elegant palate with exceptional acidity and full body. The acidity is balanced well by the medium-high sugar content.
After gentle pressing with fractioning of the must, the juice is then fermented in steel vats much like the Brut and Cuvee Imperiale Brut. The Pinot Nero is macerated for a few hours on the skins to emphasize aromas and hue. The cuvee is assembled in the spring following harvest and undergoes a second fermentation in the bottles, maturation for a minimum of 24 months on lees, 6 months longer than both the '61 Brut and Imperiale, followed by additional 2 months after disgorgement.

Product Reviews