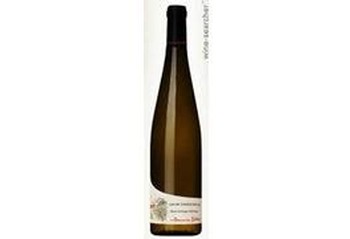 Vieilles Vignes Sylvaner, Domaine Bohn
Sylvaner or Silvaner is a variety of white wine grape grown primarily in Alsace and Germany, where its official name is Grüner Silvaner. It has high acidity but naturally reaches high must weights, so is often blended with other varieties such as Riesling or Elbling, and is sometimes made into a dessert wine.
"Vieilles Vignes" translates to "Old Vine", fitting since this wine comes from vines between 50 and 100 years old, but is marked by freshness and minerality. The aromas of lime blossom, apple, and hazelnut work wonders on sushi, shellfish and goat cheese.
As a passionate and atypical winegrower Bernard immortalises with his son Arthur the Bohn family's viticultural tradition. The Bohn family has lived in Reichsfeld for over three centuries. This father and son team tend their vines on the surrounding hills (330 – 400 metres) on which grapes benefit from a prolonged and slow maturing process.

The unique shale and greso-volcanic terroir is meticulously looked after. Yield is kept low and grapes are harvested by hand. Natural diversity and wildlife conservation are fundamental values for the Bohn wineyard. For many years Bernard and Arthur have chosen, as independent winegrowers to follow organic, ecological methods for their vineyards.

This logic is taking them towards official certification for organic wines. This three year process which began in 2017 will produce the first official organic harvest in 2020.

Bernard and Arthur are trained oenologists and are extremely demanding with their wines. They explain that their wine has to taste of the local climate and terroir. They recommend minimalistic wine production without any oenological inputs.

A range of wines has been developed since 2010 using sulfite free maceration methods. For a majority of the vintage, the vinification ends with prolonged ageing in old barrels from the local Alsace area or casks in order to achieve the necessary balance and persistence of great gastronomic wines : mineral, aired, persistent, fresh and easily digested.
Product Reviews