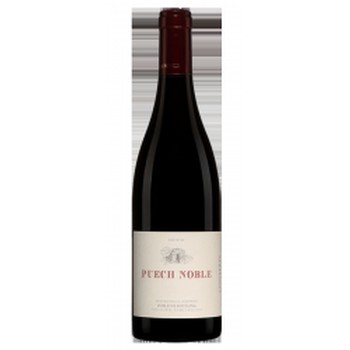 Wine Specs
Appellation
Languedoc-Roussillon
Syrah, Dom Rene Rostaing 'Vassal de Puech Noble' 2019
The estate dates to 1971, but rose to real prominence in the early '90s after founder René Rostaing inherited a treasury of prime vineyards from two of Cote Rotie's early giants; his father-in-law, Albert Dervieux, and uncle, Marius Gentaz. René's son, Pierre, today tends over 7.5ha of vines in 14 climats, including some of Côte Rôtie's most revered vineyards such as La Landonne, Côte Blonde, La Viallière, and Côte Brune. Winemaking follows the classical model. Up to 100% of the stems are used depending on vintage and ripeness. An extended, gentle maceration is followed by aging in a mix of pièce and demi-muid, with only about 10-15% new.
In the late 1990s, René and his wife purchased a property in the Côteaux du Languedoc near Nîmes. The estate, originally named Puech Chaud, is now known as Puech Noble. Located on a small plateau, the ground is covered with galets roulés – rounded stones – very similar to those found in parts of nearby Châteauneuf-du-Pape. At 150m higher than most of Châteauneuf, however, Puech Noble is significantly cooler and offers a fresher character in its wines. The estate gave the Rostaings a chance to produce Syrah on the limestone soils so beloved by many French growers. Bolstered with small amounts of Mourvèdre, Grenache, and Rolle, Puech Noble is today producing some of the South's most beautiful wines.
Vintage chart in Languedoc 2019: A mild winter led to a very early budburst in Languedoc-Roussillon. April and May were cooler but there were none of the frost problems which had affected the region in 2017, though after this cool spell flowering was in general a week to 10 days later than in 2018. Summer was then very warm, with the June heatwave breaking France's historical record: no higher temperature has ever been recorded in France than the 46°C measured at Vérargues in Hérault on June 28th and, astonishingly, it broke the previous record set in 2003 (set in neighboring Gard) by almost 2°C. This didn't just cause sunburn on the grapes, but leaves withered and the vines shut down for the year in some of the Muscat-growing regions such as Lunel and Frontignan; fortunately the higher-sited appellation vineyards on the Languedoc hills generally came through unscathed. Drought was a problem throughout the region in July, and at that point it became obvious that the harvest would be 20 to 30 per cent below that of 2018: small berries with thick skins and little juice. Cooler nights in August and rains in early September helped restart maturation, with harvest running from mid-August for the whites and from mid-September through to October for the reds. The low yields mean concentrated wines, and the best results have been achieved in cooler zones like Limoux, Cabardès and Pic St Loup where freshness was retained, too.
Product Reviews