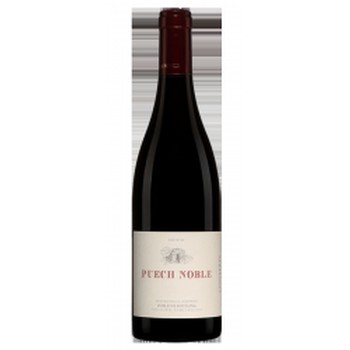 Wine Specs
Appellation
Languedoc-Roussillon
Syrah, Dom Rene Rostaing 'Vassal de Puech Noble' 2015
The estate dates to 1971, but rose to real prominence in the early '90s after founder René Rostaing inherited a treasury of prime vineyards from two of Cote Rotie's early giants; his father-in-law, Albert Dervieux, and uncle, Marius Gentaz. René's son, Pierre, today tends over 7.5ha of vines in 14 climats, including some of Côte Rôtie's most revered vineyards such as La Landonne, Côte Blonde, La Viallière, and Côte Brune. Winemaking follows the classical model. Up to 100% of the stems are used depending on vintage and ripeness. An extended, gentle maceration is followed by aging in a mix of pièce and demi-muid, with only about 10-15% new.
In the late 1990s, René and his wife purchased a property in the Côteaux du Languedoc near Nîmes. The estate, originally named Puech Chaud, is now known as Puech Noble. Located on a small plateau, the ground is covered with galets roulés – rounded stones – very similar to those found in parts of nearby Châteauneuf-du-Pape. At 150m higher than most of Châteauneuf, however, Puech Noble is significantly cooler and offers a fresher character in its wines. The estate gave the Rostaings a chance to produce Syrah on the limestone soils so beloved by many French growers. Bolstered with small amounts of Mourvèdre, Grenache, and Rolle, Puech Noble is today producing some of the South's most beautiful wines.
Vintage Chart for Languedoc 2015: The winter and early spring were cold and very wet, but warm, dry weather took over after that, and from mid-May onwards, conditions were unusually hot, especially in July. At that point, some of the vines were shutting down. Violent storms ensued on August 13th which were generally of great benefit to the vines, though quantities varied between 24 in/600 mm in Terraces du Larzac to under 2 in/50 mm elsewhere. Warm weather resumed on August 20th, and harvest got underway for the whites; reds were picked in early September. Torrential but localised rain on September 8th in eastern Languedoc spared most growers. The end of September and October provided beautiful harvest conditions for later pickers, and in general, this ended as a good vintage for both Languedoc and Roussillon, producing fresh whites and fragrant, amply constituted and lushly fruity reds with fine ageing potential.
Product Reviews