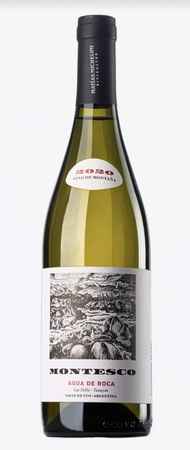 Sauvignon Blanc, Passionate Wines 'Montesco Agua de Roca'
Passionate Wines is the brainchild of Matias Michelini. He is the winemaker, agronomist, and Grand Poobah of his winery named Passionate Wines. Matias strives to make experimental wines that express terroir. These wines are low production and are drawn from multiple inspirations, regions, and styles. The Montesco wines are small production wines that focus on place and varietals. Matias continues to experiment with other cuvees with the mantra of producing either atypical varietals or classic varietals in non-traditional methods.
This Sauvignon Blanc is a white that expresses the identity and typicality of the Gualtallary terroir, coming from a farm planted at more than 1,500 meters above sea level. It owes its name to the minerality of the land, which gives all its personality to this wine. Sauvignon Blanc grapes are harvested from the same plot and vineyard on five different harvest dates, with a difference of one month between the first and last harvest. Perfect to drink with oysters.
290 cases produced
Élevage: 12 Months in Concrete Egg
Maceration / Fermentation: 50% in Stainless Steel Tank and 50% in Concrete Egg
Fermented 50% in Stainless Steel Tank and 50% in Concrete Egg
Product Reviews