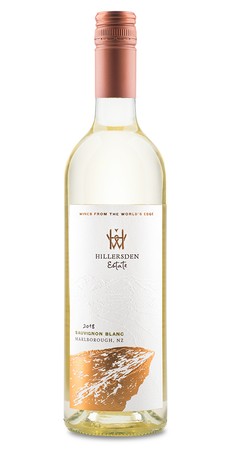 Sauvignon Blanc, Hillersden
Hillersden is a 140 hectare family-owned vineyard crafting world class wines in Marlborough, New Zealand's leading wine region. The name refers to a now abandoned settlers' village that used to sit on the site of the winery. Today, Hillersden grows vines in the rugged and untamed Upper Wairau Valley, a region known as one of the best in Marlborough for grape growing. The vines are grown at a 2000 ft elevation, sandwiched between two mountain ranges, and enjoy a large diurnal temperature variation, enabling the production of beautiful high acidity, moderate alcohol wines with a distinct sense of place and time.
Hillersden's Estate Sauvignon Blanc is made from sustainably-grown, rigorously-sorted grapes from the family estate in the wild Upper Wairau Valley of Marlborough. This high altitude region features a mix of alluvial and glacial soils interspersed with clay and sandy loam. Large diurnal temperature variation promotes slow ripening and provides the foundation for wines with weight, minerality, and complexity - the perfect ingredients for a food-friendly wine. This bottling is a pure expression of Marlborough Sauvignon Blanc with notes of grapefruit and passionfruit balancing classic herbaceous New Zealand fruit in a racy and refined wine.Winemaking is focused on expressing the purity of the fruit, with 94% of the juice fermented at low temperature in stainless steel tanks. An extended lees aging follows to develop body and mouthfeel.
Product Reviews