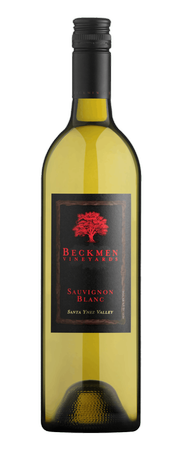 Sauvignon Blanc, Beckmen
Very outgoing aromas of lemon blossom, lime, grapefruit, lemongrass, and dried herbs are focused and complex. The mouth is round yet fresh with lemon rind, grapefruit, saline, citrus fruits, and a touch of apple with good length and great acidity. They hurried to pick the grapes before the massive heat spikes during September of 2020, so the 2020 SYV Sauvignon Blanc is a little less ripe than previous vintages. The finished wine retains great balance and freshness and is ready to drink now! Crafted from 100% certified biodynamic grapes.
The 2020 season will be remembered for its intense heat spikes in the Santa Ynez Valley. Thankfully, unlike most parts of California, they had no fire and smoke issues with their grapes and wines. Other than the intense heat the season was a good one and has produced wines of outstanding quality with lower-than-average yields. The heat that came in August and September shut down some vines and caused damage to some fruit, so sorting in the vineyard and winery was essential to a successful vintage. The biodynamic farming also helped to offset some of the negative effects of the heat which helped to make 2020 another stellar vintage for Beckmen Vineyards.
Grapes were whole cluster pressed and then cold settled for 48 hours. Stainless steel fermented for 30 days. 100% stainless steel aged.
Product Reviews