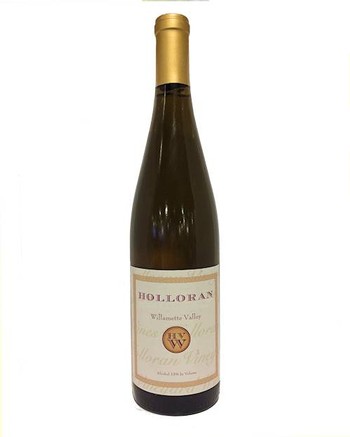 Wine Specs
Appellation
Willamette Valley
Riesling, Holloran Vineyard Wines
The 2020 growing season offered excellent spring rains for ground moisture, then many warm days for ripening Riesling. The resulting flavors are an example of Riesling that is nicely ripened from warm conditions. They pressed gently and fermented in stainless steel, and blocked malolactic fermentation.
The nose presents ripe melon aromas, plus a hint of blood orange. The palate offers honeysuckle notes, plus cantaloupe & honeydew. The finish is crisp and extends. Serve with Prosciutto and Melon, semi-soft goat cheese, or try Pork Cutlets with Cantaloupe Salad.
This 2020 Holloran Riesling is a blend of 48 year old vines from the Dundee Hills (Geisenheim 110 and Colmar 813 clones), and their La Chenaie Riesling block (Geisenheim 239) planted in 2005. They employ biodynamic farming techniques in both sites. They perform crop estimates and then drop significant amounts of fruit to reduce crop and ensure ripe and complex Riesling fruit flavors. The soils in both sites are from volcanic parent material. The Dundee site is Jory, the La Chenaie Riesling is on Ritner, a shallower soil from the Jory series on rockier ridges. They are classified as silty clay loam soils, and are distinctively red. The color comes from iron, the only residual mineral after 15 million years of rainfall has leached out the other metals.
Only 352 cases produced
Product Reviews