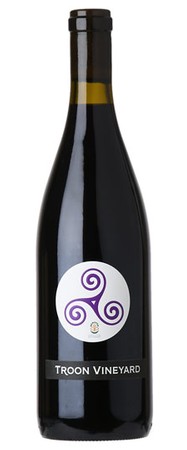 Red Rhône Blend, Troon Vineyard 'Druid's Fluid'
Tempranillo/Malbec/Syrah/Mourvèdre/Grenache/Cinsault/Carignan
A blend of 27% tempranillo, 23% malbec, 22% syrah, 15% mourvèdre, 6% grenache, 5% cinsault and 2% carignan. The intent behind this blend is to represent a broad cross-section of the grapes from Troon's estate vineyard in any given year. In 2021 they were excited to start receiving fruit from some of their younger vines for the first time [mourvèdre, grenache, cinsault and carignan] which, along with syrah, will begin to form the backbone of the blend moving forward.
Harvest dates ranged from September 23rd [for the tempranillo] to October 16th [malbec].One of the malbec blocks ripened earlier and was co-fermented with the tempranillo; the cinsault, grenache and carignan were also harvested within days of each other and were also co-fermented. The tempranillo, malbec and mourvèdre were destemmed, while the syrah, grenache, cinsault and carignan had some percentage of whole clusters included with their fermentations.
Red wine fermentations occur outdoors, leading to long and cool ferments as the diurnal temperature shift cools them down at night. After fermentation, the wines are transferred to almost completely neutral french oak barrels and puncheons. Malolactic fermentation occurs spontaneously in barrel, and once complete [usually by late spring]. The wines are kept on their primary lees without racking for 10 months. They are then racked to tank forblending and bottling, receiving a small dose of sulfur at this time. 670 cases were produced.
Troon Vineyard is a Demeter Biodynamic Certified and Regenerative Organic Certified™️ farm in Oregon's Applegate Valley [the 2nd winery in the world to every receive the ROC Gold Certification]. They naturally craft wines to bring pleasure to your life. Troon Vineyard is dedicated to regenerative agriculture and they practice Biodynamics in their quest to put back more than they take from their plants and soils. They believe the only route to memorable wines, that reflect the terroir of where they were grown, is to be found in the healthy soils and vines that are the foundation of Biodynamic agriculture. This philosophy continues in the cellar where their winemaking is minimalist and they use only native yeasts with no additives to ferment their wines and eschew the use of new oak barrels to reveal each nuance of wines grown in Oregon's Applegate Valley. They 'farm like the world depends on it', which is the slogan of the Regenerative Organic Alliance and reflects their vision for their farm, for their wines and for our planet. They are located on the Kubli Bench, high above the Applegate River in the Siskiyou Mountains of Southern Oregon. It is a biodiverse farm of almost 100 acres. Life on their farm includes cider apples, a vegetable garden, re-wilded honeybees, sheep, chickens, wildlife, dogs, humans and, of course, grapevines.
Winemaking at Troon is straightforward and minimalist. Their grapes are field sorted by the same vineyard crew that tended them all season. Their goal is to express their vineyards rather than winemaking techniques in their wines. All Troon Vineyard wines are fermented only with native yeasts and no commercial yeasts, acids, sugar, enzymes or additives are added to any of the wines. Their white wines are whole-cluster pressed then barrel fermented in mature French Oak barrels. For 'Orange Wines' they are now using clay amphorae to allow extended skin contact after fermentation. They make a range of fun pétillant natural sparkling wines, naturally fermented in bottle. For red wines, they focus on using whole-cluster and whole berry fruit in the fermenters, then use only mature French Oak barrels for aging so that every nuance of their unique Applegate Valley fruit can express itself in their wines.
The vines, the soil, the place, the wines, and the people are all becoming one.
Product Reviews