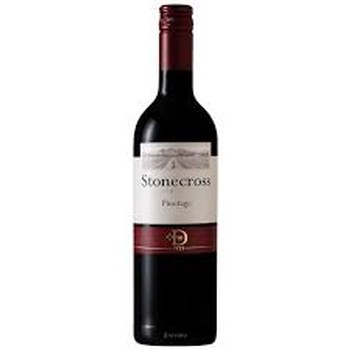 Pinotage, Deetlefs Wine Estate 'Stonecross'
Deep dark red colour. Aromas of red and black cherries, prunes, blackcurrants with subtle spicy notes of cloves and pepper add to a very interesting and complex nose. The aromas on the nose carry through on the palate. Surprisingly structured tannins add good weight. The wine shows good complexity with a fruity and round finish.
Grapes are harvested when phenolic ripeness, soft fruit tannins and fruit aromas have reached the perfect balance. Modern winemaking techniques are applied to maximize freshness and bring out the fruit aromas of cherries, prunes and blackcurrants that is typical to this noble varietal. Oak is used moderately as a finishing/polishing component.
Pinotage is a grape crossing of Cinsaut and Pinot Noir. It was first crossed in South Africa in 1925 in the gardens of scientist Abraham Perold. Perold observed how Pinot Noir struggled in South Africa's climate, so he crossed them with a very productive species: Cinsaut (called Hermitage). Perold's goal was to create a wine that was as delicious as Pinot Noir but grew as well as Cinsaut. Pinotage is dense in color and bold in flavor with notes of plum sauce, tobacco, blackberry, tar and licorice.