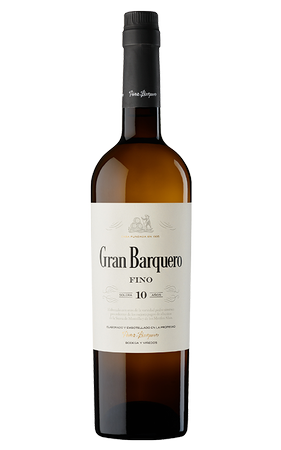 Pedro Ximénez, Perez Barquero 10 year
Pérez Barquero was founded in 1905, but the name was known only locally until 1985, when businessman Rafael Cordoba bought the winery in Montilla-Moriles. He's raised its profile significantly by demanding the patience to let the wine age in solera, obtaining the complexity that both flor and oxidation can give.
Fino ['refined' in Spanish] is the driest and palest of the traditional varieties of sherry and Montilla-Moriles fortified wine. They are consumed comparatively young and, unlike the sweeter varieties, should be consumed soon after the bottle is opened as exposure to air can cause them to lose their flavor within hours.
The wine of their flagship brand is the wine of freshness, elegance and complexity. Unbeatable companion of an authentic gastronomy, of pure flavors. It ferments naturally and does not require added alcohol during the production process, which accentuates its wine balance, the hints of toast and dried fruit, and the intense aftertaste. It is recognized in the world as one of the great finos on the market.
Gran Barquero Fino is aged 8-10 years under flor, pushing the limits of biological aging, which gives it a different profile: It is a big step up in quality that makes it a serious, first-class Fino.
Product Reviews