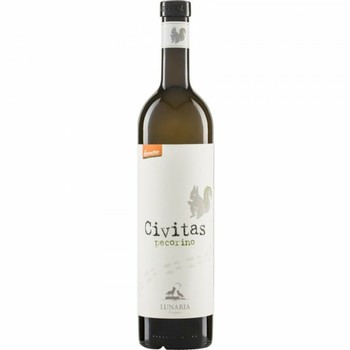 Pecorino, Lunaria 'Civitas'
The first thing that comes to mind when you hear "Pecorino" is likely "Romano" but the name of everyone's favorite piquant-to-the-core cheese is shared with another Italian comestible: a crisp, aromatic white wine. It is an Italian heirloom varietal that you don't see very often. It originated in the Sibillini Mountains and thrives in the coastal parts of Abruzzo. This grape naturally produces very low yields, which makes it fairly unprofitable for growers, but quite delicious for those drinking wine made from it.
The grapes are sent to the pneumatic press for soft crushing, then the must is fermented with their indigenous yeasts at low temperature (54/57 °F) in stainless steel tanks for about 30 days. Aging in stainless steel tanks, followed by ageing in bottle.
Straw yellow color, intense nose with hints of broom, white fruits and ethereal. The palate is fresh, intense, fruity and full-bodied.
Cantina Orsogna is a (very) progressive cooperative of thirty one growers in Italy's central province of Abruzzo. The company was one of the first of its kind to move to 100% organic farming back in 2002, and they are the largest Biodynamic wine producer in Italy, having been certified by Demeter since 2005. We are currently working with their fruit-forward, sometimes experimental "Lunaria" line which showcases single varietal bottlings from grapes well-suited to the climate of the coastal Terre di Chieti subregion.
Product Reviews