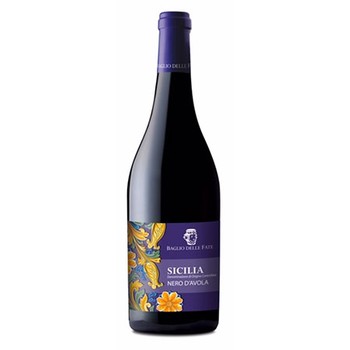 Nero d'Avola, Baglio Delle Fate
Another amazingly fresh wine from Baglio della Fate, this pure Nero d'Avola shows aromas of black cherry, black plum, hints of tobacco and spice, with an easygoing, approachable personality. Winemaker Valentina Nicodemo has done it again with Sicily's most important red varietal!
If you love full-bodied dry reds like Cabernet Sauvignon or Syrah, then Nero d'Avola is your friend. It is known for its superbly bold fruit-driven flavors that range from black cherry to prune. The tannin in Nero d'Avola is high, but not as high as wines like Barolo or Petite Sirah. Acidity in wine ranges from the tartness of a lemon to the creaminess of greek yogurt. With Nero d'Avola you can expect moderately high acidity, but not so tart that the wine tastes overly spicy.
Baglio delle Fate's Nero is traditional in its character and its structure, presenting unmistakable qualities due to its geographical origin, that is the territory of the Sicilian hinterland, with rich and purely clayey soils.
Product Reviews