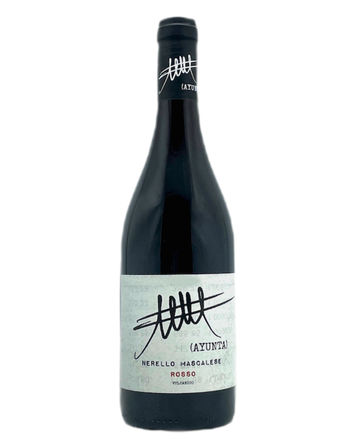 Wine Specs
Varietal
Nerello Mascalese
Nerello Mascalese, Ayunta
Growing up in Agrigento on Sicily's southern coast, Filippo Mangione had winemaking in his blood. For generations his family tended vines and made wine in their palmento until his grandfather passed away in the sixties. The vineyards and building were sold off; leaving his family without an estate. After university, he dove headfirst into the world of wine: working as a waiter, sommelier, journalist, and sales/export in both the US and the UK. The more he worked selling other peoples' wines, the more he felt the pull to revive his family's legacy and re-establish an estate of his own. In 2011, after months of visiting and walking the slopes of Etna, Filippo happened to meet the old owner of a nearly abandoned vineyard in Calderara Sottana planted in the early 1900s behind a grove of chesnut trees. Too old to work the vineyards any longer, he was thrilled that Filippo wanted to continue his work, telling him "Take it. Don't let this vineyard die." Filippo spent his life savings to buy that vineyard and Ayunta was born.
The vineyards of Ayunta, now several parcels spread throughout the top terroirs (namely the contrada of Calderara Sottana) around Randazzo on northern Etna, total 2.8 ha. The vineyards are populated mainly by very old vines. Every vine is different which is why Filippo does all his farming either by hand or small machine. He doesn't use any chemicals in his vineyards, preferring to allow the natural vitality of the soil shine through in the wines. Yields are quite low: in a very good year he may get 40 hl/ha. Due to the altitude, 600-700+ meters, the harvest is late with the whites in early October and the reds in late October. The vines are planted mainly to Nerello Mascalese but interspersed throughout those vines are Nerello Cappuccio, Carricante and Cataratto, as well as nearly extinct varieties such as Minnella Bianca and Minnella Nera. To make a white wine here is a Herculean effort. Vines of the white grapes are stray among the reds, and, as such, he has map out and track the development of many individual vines to pick at optimal ripeness early in the morning. The soil here is "ripiddu", the local name for lapillus (a small black volcanic rock) and ash. Etna, a very active volcano, gives new soil during every eruption, a very rare occurrence that defines the unique minerality of Etna wines.
In the cellar, Filippo makes the wines very traditionally. The reds ferment spontaneously in an open-top concrete vat for about 3 weeks before pressing to mainly neutral barrels of larger sizes. The whites also ferment spontaneously but stainless steel is used for fermentation and ageing. No additives of any kind touch the wines during the elevage.
Wine Notes: Traditional yet easy-going style of red wine, that is once known and called "pista e'mmutta" (Meaning: press it and put in the barrel straight away). Gentle pressing with short marbonic maceration followed by fermentation in a cement vat. Aging in bottles.
Product Reviews