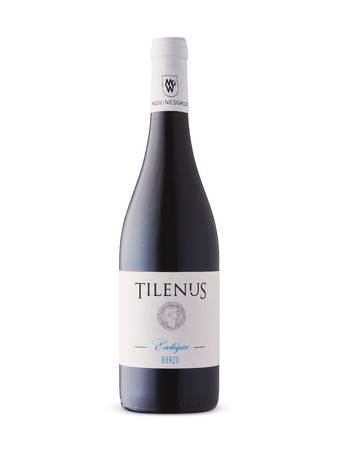 Wine Specs
Appellation
Castilla y León
Mencia, Bodegas Estefanía 'Tilenus Ecologico'
Mencía covers nearly two-thirds of the Castillo y Leon region's vineyard in the northwest region of Spain. It ripens early, often early September, and likes the maritime climate of Bierzo with its usual wet autumns. It's very versatile and capable of expressing the mineral-rich soils of the region. Mencia wines tend to exhibit earthy, vegetal characters with berry nuances and stony minerality.
The variety, with its somewhat thick-skinned, violet-blue grapes, was once thought to be related to Cabernet Franc. Modern DNA testing has disproved this theory, however, but has uncovered that it is genetically identical to Portugal's Jaen.
Tilenus is named after the Teleno, a Celtic god of war, spelled this way to pay tribute to the Roman era in the Bierzo. There is also an old Roman coin on the label, a coin that was once discovered in the vineyard. The grapes were sourced from the bodega's organic vineyards in Arganza.
Bodega Estefania is not a newcomer here with its Mencia cuvées. It reiterates with an organic version with a fruity character. Vinified with the precious advice of the great Raùl Perez, the wine showcases the digestible and flavourful profile of the king of Bierzo grape varieties, with notes of red and black berries, a floral touch and spicy fragrances.