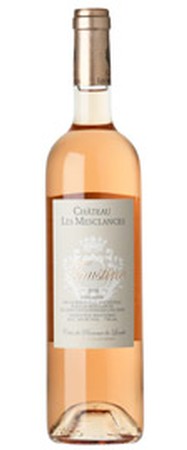 Wine Specs
Varietal
Grenache/Syrah/Mourvedre
Appellation
La Londe, Provence
GSM, Château les Mesclances 'Faustine'
Grenache 81%/19% Syrah & Mourvèdre
Because they are rarely seen on the US market, most people don't realize that Côtes de Provence has four tiny subzones of distinction. Mesclances' top 'Faustine' bottling is from La Londe, and it's a complex, Tempier-equivalent rosé that must be experienced.
Not many people know it, but the Côtes de Provence actually has Burgundy-like village appellations. Only the best are singled out though, and La Londe is one of the small handful who can proudly display their name on labels. Much like its famous rosé neighbors Cassis and Bandol, La Londe lies right on the Mediterranean coast, where near-constant seaside breezes bring tension and structure to the open, warm climate fruit. It's tiny, with barely twenty producers working there, and perhaps the reason it hasn't quite taken off yet is that there's no large-scale producer there to flood supermarket shelves with cheap bottles. But if Château Les Mesclances' otherworldly rosés are any indication, it deserves the same reverence as the best rosé-producing villages in the world.
Château Les Mesclances sits not even two miles from the Mediterranean. Their 30 hectares of Grenache, Mourvedre, Syrah, and Cinsault run nearly to the coast, every inch of it organically farmed. It's currently headed by Arnaud de Villeneuve Bargemon, and the estate's been in his family since before the French Revolution. Under the guidance of estate manager Alexandre Le Corguillé, Les Mesclances has reached new heights in recent years. Even though their entire property could be classified as Côtes de Provence La Londe, they reserve it only for the vineyard that produces the "Faustine" cuvée, their oldest and highest elevation site responsible for their most profound wine.
Led by Grenache, which sat on its skins for 20 hours, and rounded out by Syrah and Mourvèdre made in the saignée method, "Faustine" matured six months on lees and sports richer textures than many Provençal rosés. Intense sea salt and crushed rock minerality lead the nose, backed by peach skin, Ruby Red grapefruit, tart red raspberry, cranberries, Mediterranean herbs, crushed rock, and white pepper. The palate is a textural marvel, rich and fleshy, but with a vibrant and electric throughline of acidity that wicks the palate clean and immediately makes you another sip. Ripe, savory, and salty, "Faustine" is a heady and soil-driven vin de terroir that's just now starting to spread its wings. It will continue to reward you over the next three years.
Product Reviews