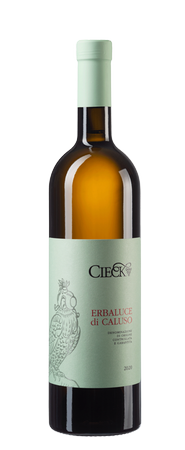 Wine Specs
Aging
4 months in stainless steel
Erbauluce di Caluso, Cieck
Erbaluce or Erbaluce bianca is a white Italian wine grape grown primarily in the Piedmont region around Caluso, in Canavese. In addition to dry table wines, it is used to make sweet wines with deep golden coloring, such as passito. The grape has a long history in the Piedmont region, with the first written record dating to 1606, and most likely originated in the alpine hills of northern Piedmont. Wines made from Erbaluce tend to be dry with noticeable acidity. While the grape's acidity makes it ideally suitable for sweet wine production, the dry wines need to have considerable amount of fruit in order to balance that acidity. Both the dry and sweet styles of Erbaluce tend to exhibit characteristic apple aromas and flavors.
Cieck's Erbaluce has a fresh bouquet, with characteristic notes of hawthorn and fruit, harmonizing delightfully with the vigorous structure of this wine. It is young, with a nicely acidic vigour and very pleasant and intensely fruity sensations.
The grapes are destemmed and pressed to obtain the must, which clears as it settles. Low-temperature fermentation preserves all the scents of the grapes and last for 21 days. The wine spends the next four months in steel to stabilize.
Product Reviews