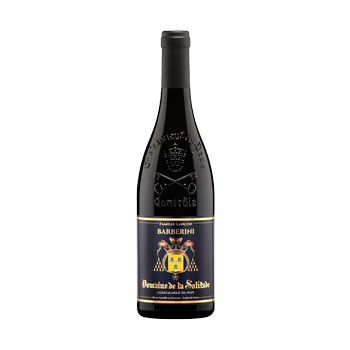 Wine Specs
Varietal
Grenache/Syrah/Mourvèdre
Appellation
Châteaneuf du Pape
Cuvée Rouge, Dom. de la Solitude 'Barberini'
60% Grenache/30% Mourvèdre/10% Syrah
The Lançon family, owners of Domaine de la Solitude, descend directly from the 12th Century Barberini family of Rome. The best known of the family, Maffeo Barberini, was a papal nuncio, or diplomatic representative, in Paris from 1604 to 1606, and was made Pope in Rome under the name Pope Urban VIII. Two of his nephews became cardinals and a part of the family then settled down in Avignon. In the 1980s, brothers Michel and Jean Lançon took the future of Domaine de la Solitude in their hands, focusing attention on the vineyards. Over the past several years, Michel's son Florent Lançon has taken over the day-to-day operations of Domaine de la Solitude, continuing to make improvements while preserving the traditions of his father and uncle. The Estate is a contiguous 100 acres, planted to 86 acres of red grapes and 14.8 acres of white grapes, with vines averaging 50 years of age.
The grenache comes from old vines planted on the high Quaternary alluvial terraces surrounding the estate. These famous soils of pebbles of quartzites and clays give the Cuvée Barberini a great tannic and aromatic power.
It has a powerful nose, which mixes aromas of tobacco, violet, and milk caramel.. It has a velvety mouth with aromas of licorice and morello cherry, with a lingering chocolate finish.
After a double selection of the best bunches in the vineyard followed by the sorting table, the grapes are crushed and partially destemmed. They are vinified by gravity in concrete vats.. Long macerations with gentle extractions provide these tannins both powerful and velvetiness. This vintage is aged for 60% in barrels and half barrels for 18 months and 40% in concrete vats. The wine is bottled without filtration or fining.
Product Reviews