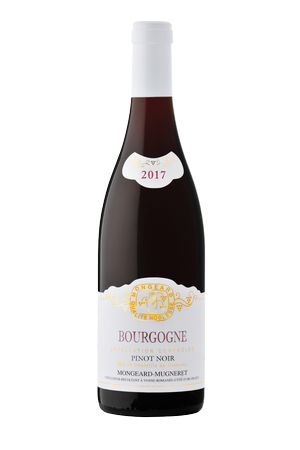 Bourgogne Rouge, Mongeard-Mugneret
Bourgogne Pinot Noir, also known as Bourgogne Rouge, has a fairly intense colour, varying in intensity according to the vintage. It often has a violet tinge when young. This wine opens out early and offers a wide range of red berry aromas, sometimes developing animal hints when mature. The structure is supple; owing to the moderate tannin content.
The Mongeard family arrived in Vosne-Romanée in the eighteenth century, and records show a Mongeard working as vigneron for Domaine de la Romanée-Conti in 1786. In 1945, Jean Mongeard, whose mother was a Mugneret, found himself making wine at the age of 16. His father had died five years before, and there was no one left to do the job. The entire 1945 crop was purchased by Baron le Roy, Marquis d'Angerville, and Henri Gouges. Gouges instructed the young Mongeard to personally bottle the wines, rather than sell in barrel. In 1975, Vincent Mongeard, Jean's son, began working alongside his father and became responsible for viticulture and vinification of the domaine's wines. He persuaded his father to return to the traditional method of bottling, without filtration, filtering only with certain vintages. Jean Mongeard retired in 1995, and Vincent assumed complete leadership of the domaine.