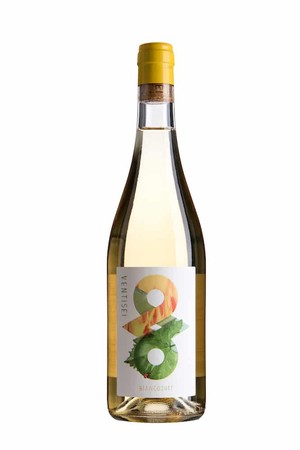 Bianco White Blend, Ventisei
33% Trebbiano/35% Malvasia/27% Sangiovese/5% Grechetto
It all started with a pied de cuve of indigenous yeasts, and then the magic began. Pied de cuve is the process by which a small batch of grapes is pre-harvested and used for preparing a vineyard-specific natural yeast that becomes the "base stock" for fermentation when the main batch of grapes is harvested one week later. By using this self-made, natural yeast, they manage to enhance the tie between the vineyard and the wine, which will have a greater sense of place and goût de terroir.
Crisp, delicious aromas of white peaches and nectarines - imagine gorging yourself on your grandmother's peach tree - join a delicate hint of wildflowers, pervading the senses, transporting you to that #pourmeanotherglass mood. Refreshing, buoyant, fragrant and with a sapid finish, Bianco calls for tasty nibbles at apéritif time, light seafood or simply... for another sip!
This fun wine contains 27% Sangiovese grapes, which are red! Whole bunches are pressed so the juice comes out fresh and in a straw yellow color. The alcoholic fermentation lasted from 20 to 30 days. Aged partly in stainless steel vats and partly in used barriques, kept on its fine lees, stirred on a regular basis until December.
Product Reviews