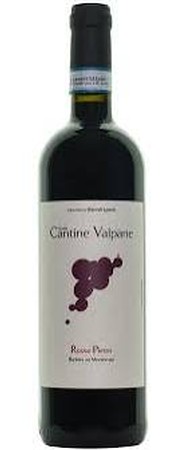 Barbera, Cantine Valpane 'Rosso Pietro'
Cantine Valpane Barbera del Monferrato 'Rosso Pietro' ample tannins are balanced beautifully with zippy acidity [exactly what you want!]. Dusty, cellar-like aromas add complexity to this red fruit-driven number, and the long finish will drive you wild. Fermentation takes place in cement tanks and lasts 21-23 days. It is aged 10-12 months in stainless steel and cement tanks before bottling, where it is aged an additional 3 months before release.
The Fojadelli family proudly displayed the awards bestowed on their Barbera: gold medals at tastings in Dijon and Bordeaux in 1898, silver the same year in Hamburg and the next in Rome. Their stately villa at Valpane overlooked one of the most enviable vineyard sites in the Monferrato, a perfect amphitheater that had been planted with vines since at least the 1700s. One day a young man came to the estate and enthusiastically described his dream to buy Valpane and pursue his passion for winegrowing on this exceptional plot of land. The elderly Fojadelli brusquely refused at first, but a housekeeper saw the young man's desolation as his hopes were crushed and convinced the owner to give him a chance. Pietro Giuseppe Arditi began working the land in 1900 under a sharecropping agreement, and after his passion and dedication to his work had earned Fojadelli's confidence, he purchased the estate in 1902. Over the years he planted more vines and raised his family at Valpane. His eldest daughter, Lydia, was a brilliant student with a bright future in mathematics, but her mother needed help around the house so, like many girls of her generation, she was pulled out of school at an early age. But instead of cooking and tending to her elderly grandmother, Lydia followed her father out to the vineyards, where she quickly became fascinated by his craft. Before long, she was working alongside him and showing a keen business sense in dealing with clients. As Pietro grew older she gradually took over the estate, continuing to make the same structured, aromatic wines for which Valpane was already known. Today Lydia's nephew, named Pietro for his grandfather, runs the estate. He is bursting with pride in his vineyards and the distinguished history of Valpane, but he never takes credit personally for his wonderful wines. "People tell me I'm a great winemaker," he says, "but the wines of Valpane have been winning awards for well over a century, so it can't be my doing. I'm just careful not to ruin what the land gives us!"
Although the names Asti and Alba may be more widely recognized today, Pietro explains that the Monferrato provides more faithful expressions of Barbera. This is due in part to the warmer climate and longer hours of sunlight here, which allow the grapes to ripen completely and unfurl the full personality of the variety. The Monferrato is also still relatively untamed, and the forests and fields here benefit the area's vineyards by providing a natural source of variety. At Valpane these factors combine to provide meaty Barberas that nevertheless offer plenty of lively fruit. Pietro then lets them sit in large oak botti and cement tanks for several years, depending on the cuvée, and releases them only when they are ready.
Product Reviews