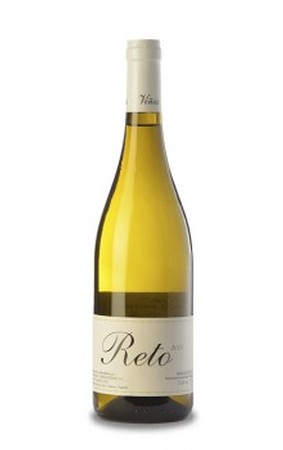 Albilla, Bodegas Ponce, 'Reto'
Albillo is a white wine grape variety grown in northwestern Spain, notably in Galicia. It also grows further to the south and inland towards Madrid, and eastwards in Ribera del Duero where it may also be called Pardina. Although it is, at best, only lightly aromatic, Albillo produces wines with tropical notes and a rich mouthfeel. This makes it useful in blends with thinner Viura, Muscat Blanc a Petits Grains, or aromatic grapes such as Verdejo or Albarino, but it is most commonly used to make single-variety wines.
This beautiful organic and biodynamic wine, from Juan Antonio Ponce, is the perfect white wine for spring and summer. Coming from different parcels in Manchuela (near Valencia) of Albilla vines, averaging around 50-year-old, planted on chalky and calcareous soil, the grapes are hand-harvested and kept at low temperatures before being pressed. The grapes are then fermented using native yeast in old oak, and aged on lees for 8 months in old oak barrels, with no fining or filtering, and minimal addition of sulfur before bottling. The wine reflects Juan Antonio Ponce's natural approach to winemaking, with vibrant expressions of minerality, bright acidity and a beautiful creamy texture. With notes of white flowers, salty pineapple core, lemon cream pie, saline and savory, the wine shows off a complex bouquet that will linger deliciously on the palate. Pair it with grilled fish dishes or fresh seafood.