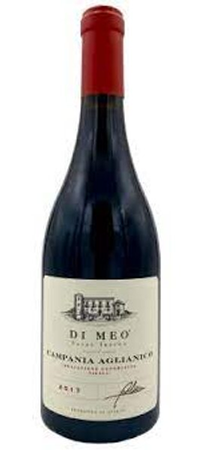 Aglianico, di Meo
The objective of the three brothers is to produce wines starting from the most widespread native varieties in Irpinia, such as Fiano, Greco, Aglianico and Coda di volpe, and to enhance the heritage of cultural traditions of which they are inherited. The Di Meo winery grows only native grapes, and the family vineyards are located in the most suitable areas of Irpinia in the three areas of the respective Irpinian DOCG: Fiano di Avellino, Greco di Tufo and Taurasi.
Di Meo's Aglianico [pronounced 'alli-YAWN-nico'] is brilliant ruby ​​in the glass, bouquet characterized by tones of sour cherry, myrtle, aromatic herbs and notes of violet; good body, lively tannin and pleasant flavor.
Manual harvesting of selected bunches in 15 kg boxes, maceration on the skins at a temperature of approximately 26°C for 15-20 days, during which pumping over and délestages are periodically carried out. Racking is followed by malolactic fermentation, then passage in wood (French oak barriques) for 12 months, with a final refinement in the bottle for 12 months.
Product Reviews