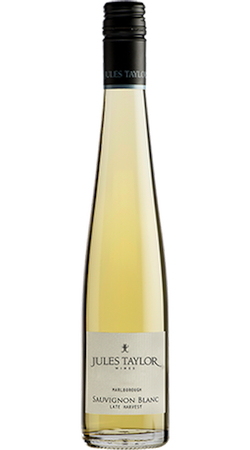 Wine Specs
Varietal
Late Harvest Sauvignon Blanc
2018 Late Harvest Sauvignon Blanc, Jules Taylor BTL
In 2000, Jules was appointed winemaker at Kim Crawford's Marlborough Winery and appreciation of her style of winemaking led to the brand's explosive international growth in the five years of the new century. Concurrently, Kim insisted that she make wine under her own label, and the first vintage of Jules Taylor Wines was in 2001
Jules left Kim Crawford 2008 to focus on her own brand full-time with her business partner and husband, George Elworthy. Since then her Sauvignon Blanc, Pinot Noir, Pinot Gris, Grüner Veltliner, Chardonnay and Late-Harvest Sauvignon Blanc have received many awards and citations and the prestigious International Wine and Spirits Competition named Jules Taylor Wines New Zealand Producer of the Year 2013.
Small production, ultra-premium wines.
Jules focuses on single blocks of ultra-premium Marlborough fruit in order to express the elegant terroir of this prized growing region in New Zealand. While Jules owns no acreage, she has exclusive contracts with growers who farm to her specifications and she regularly visits the vineyards in the months leading to harvest to check on the fruit.
TASTING NOTES
COLOUR Lustrous gold. NOSE This wine shows bold aromas of passionfruit, honey baked pears, stonefruit and fragrant spice. PALATE The palate is decadently sweet with concentrated flavours of ripe nectarine and apricot, preserved lemon and mellow, warm spicy notes. A soft line of acidity from its Sauvignon Blanc heritage cuts through the sweetness to balance the rich flavours to perfection. Luscious!
WINEMAKER NOTES
Sometimes we leave the fruit on the vines and let it ripen and over ripen and then we make teeny tiny quantities of tart honeyed gold. Sometimes. - Jules

Product Reviews