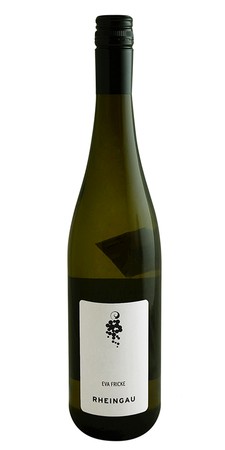 Riesling, Eva Fricke
Eva Fricke's wine philosophy is simple: pure & delicate wines with the maximum of expression & elegance. This label is a blend from several Rheingau sites including the second selection from Seligmacher, Schlossberg and Krone (mostly grey slate, as above), Rüdesheimer Kirchenpfad (purchased from Leitz, sandy loess and loam) and some Kiedricher sites (sandy loess and loam with a lot of quartzite). It is fermented in tank, 6 months on lees and contains 7.3 g/l residual sugar balanced with 8.8 g/l acidity.
Riesling is probably the most complex and at the same time most sensitive grape variety, with the highest potential to express the characters of the different amazing soils in the Rheingau region. Their regional blends are the imprint of Rheingau Riesling and a blend of different soils and sites. The village wines show the character of single sites and different expositions. The single sites are the eponyms of their top wines and they express the amazing terroir, of their old historical steep slopes.
Product Reviews