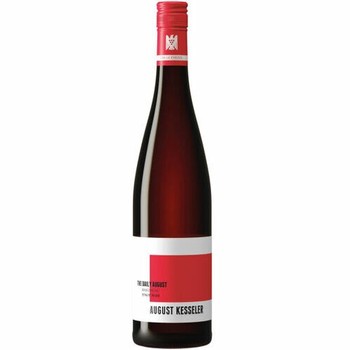 Pinot Noir, August Kessler 'Daily August'
As a winery in the Rheingau, with origin in Assmannshausen, August Kessler has dedicated themselves to Pinot Noir and Riesling. They are the predominant grape varieties in the Rheingau and at the same time the two flagships of German viticulture abroad.
When August took over the company, founded in 1924, from his parents, he was just 19 years old. He led the at that time 2.5 hectare large barrel wine business to one of the exemplary businesses in the Rheingau and achieved a high international reputation, which has continued until today.
'The Daily August' is a Big Pinot. Big Pinots are defined above all by three things: fruit, elegance and balance. Added to this are distinctiveness, finesse and precision, supported by new wood - but never more than 30 percent! Like the background of an old master painting, it should gently shine through in order to accentuate the structure of the wine, but must not under any circumstances impair the radiance of the fruit. If this background is only a trace too dominant, the Pinot Noir will never be able to ignore it in its finesse. And it is precisely in the finesse that all the charm of this great grape variety lies.